Vegetable Biryani (Veg. Biryani) is famous due to its choice of spices and aroma. The flavors it contributed to Biryani distinguished from the original taste introduced by the Persians. It is a dish of royalty which now has acquired the local delicacy, as a result it is one of the favorite choice in a veg meal as well as a non-veg meal. Introduced thousands of years ago, Biryani has ruled and is still ruling the foodie's list. Its charm has increased with the passage of time.
Many of us might have been in a delusion that biryani is Indian food but it is actually not. India has seen a chain of foreign rulers from different geographies, be it Arabs, Afghans, Persians, Turks, or Mughal's. They all brought a storm of culture, traditions, and cuisines. Vegetable Biryani is one of them!
But what is an adamant fact is that biryani is cooked with the "dum pukht" (slow cooking) technique originated from Persia to maintain its authenticity.
There are multiple stories around Biryani. People says that Taimur brought the recipe to serve its soldiers while invading India. Some say Mumtaz, wife of Shah Jahan, asked her chef to prepare a special dish for her soldiers as they looked weak and malnourished. The chef prepared it and the result was Biryani. Some say that there is a mention of a dish named "Oon Soru" in Tamil Literature in the year 2 A.D. It is also believed that Oon Soru was also prepared the way as traditional Biryani is prepared.
Well, that might be the story related to Biryani's origin. Most importantly what made it popular in India is the Nawabs of Lucknow and Nizams of Hyderabad. The Nawabs made it popular in North India likewise the Nizams made it popular in South India. The only difference between the two's approach to preparing Biryani was that the Nawabs used a subtle amount of spices while the Nizams used the spices liberally.
Now, after reading all exciting information about its origin and different cooking styles followed in India, I am sure you must be more desperate to follow my recipe and cook delicious Vegetable Biryani (Veg. Biryani)!
Please don't forget to like, share and comment!
Serving – 6 pax. Time – 1 hour
Ingredients for Vegetable Biryani
Rice – 2 cup
Onion – 2 medium (1 finely chopped, 1 sliced and fried )
Ginger garlic paste – 1 ½ Teaspoon
Carrot – 1 cup chopped
Cauliflower- ½ cup chopped
Peas – ½ cup (fresh or frozen)
French beans – 10-12 chopped
Potatoes – 2 medium chopped
Tomato – 2 medium chopped
Green chilli – 2 cut lengthwise
Curd – 1 cup (beaten)
Mint leaves – 2 tablespoon
Coriander leaves – 2 tablespoon
Curry leaves – 6-7 leaf
Bay leaf – 1 piece
Cinnamon – 1 inch
Cloves – 2 piece
Green cardamoms- 2
Black pepper – 7-8
Cumin seeds – ½ teaspoon
Red chilli powder – ½ teaspoon
Turmeric powder – ½ teaspoon
Garam masala powder – ½ teaspoon
Salt according to taste
Ghee – 3 tablespoon
Saffron – 8-10 (soaked in 2 tablespoon milk)
Oil – 1 tablespoon
Preparation steps of Vegetable Biryani
1. Soak Saffron in milk.
2. First wash the rice and soak the rice in water.
3.Cut all the vegetables (potato, onion, tomato, cauliflower, carrot, French beans, mushroom and green chilly ) in medium size.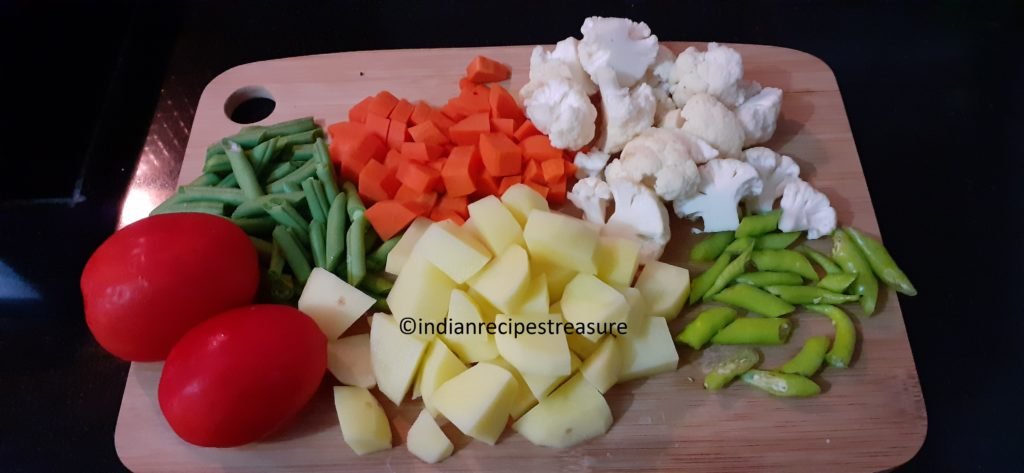 4. Marinate vegetables in 1 cup curd. (Potato, cauliflower, carrot, French beans, mushroom and green chilly) with ginger garlic paste, garam masala powder,chilly powder, haldi powder, briyani masala and salt according to taste .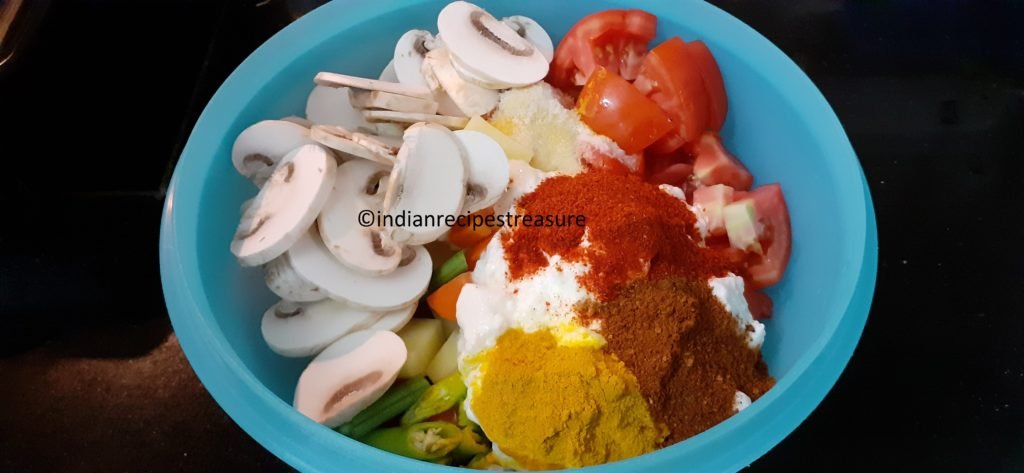 5.Fry 1 medium onion till it get brown in colour in oil.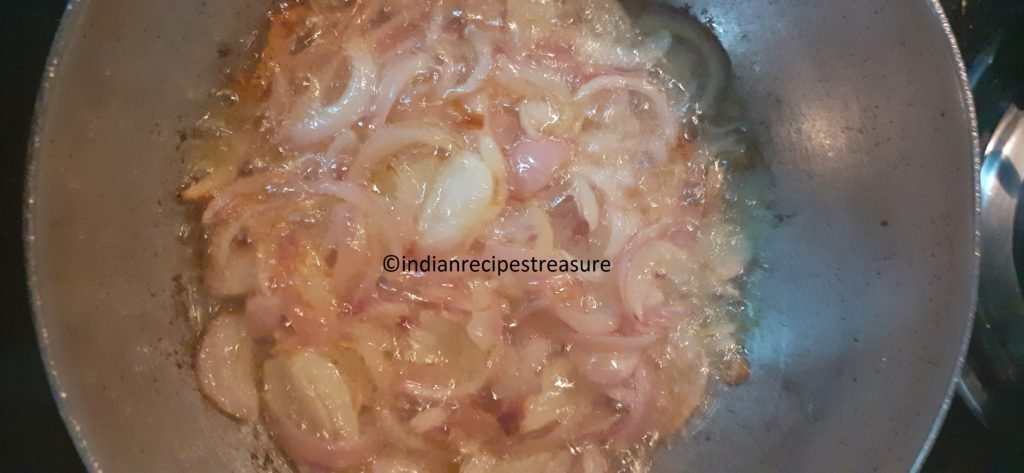 6.Take a deep pan or pressure cooker. Add 2 Tablespoon ghee. Then add cumin seeds, curry leaves.
7.Now add marinate vegetable. let them cook for 10 min.
8.Now we cook rice. Take a pan add rice, 3 to 4 cups of water, salt, bay leaf, cinnamon, cloves, green cardamom, .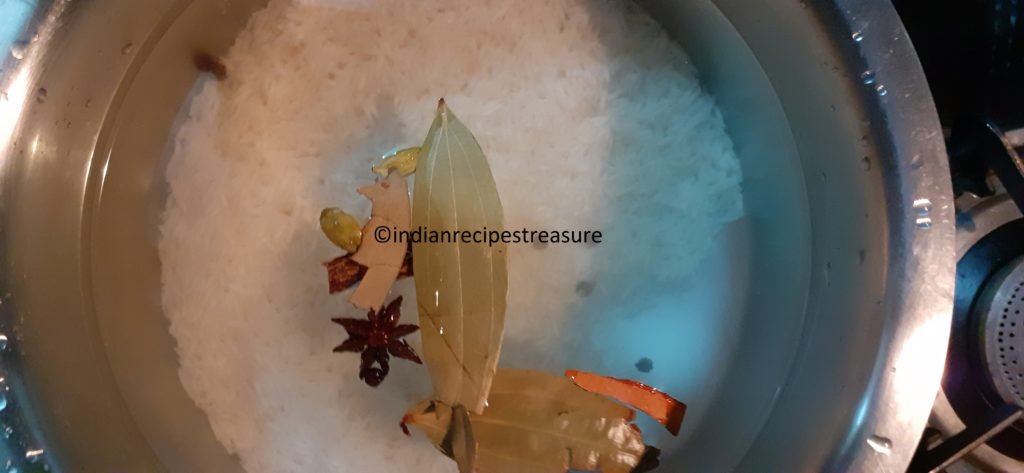 9.Take a boil till 7 to 8 min. Cook rice 80% to 85%. Don't overcook the rice.
10.Transfer cooked rice to colander and drain excess water.
Now we assemble Vegetable briyani
Add capsicum and tomatoes in end just before placing the rice.
2. Chopped mint leaves and coriander leaves.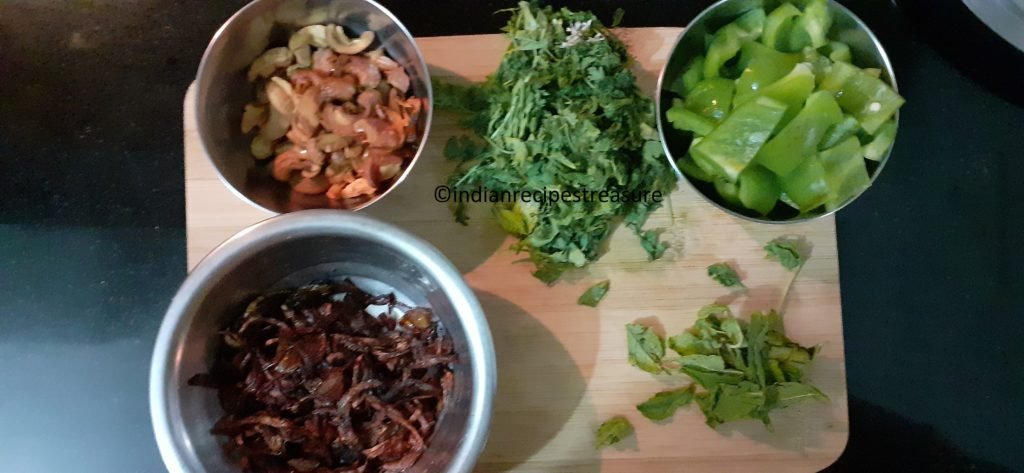 3. Then add rice on them. Also, then sprinkle some coriander leaves, mint leaves, fry onion and saffron mixture and fry cashews over it.
4. Keep some rice for garnishing.
6.Now cover it with tight fitting lid.
7.Now heat the tawa over low flame put the cooker over it and cook for 12 to 15 min. (pan should not be put directly over heat will burn the gravy inside).
8.After 15 min turn off the flame.
9.Remove the lid and transfer vegetable briyani to serving plate. Garnish with fresh coriander leaves and plain white rice.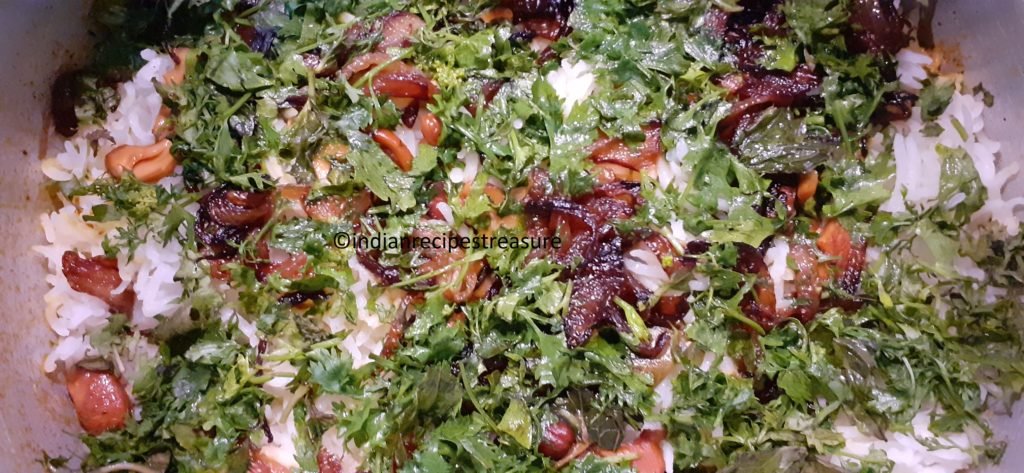 Vegetable Raita
1.Take 3 cups of curd.
2. Whisk the curd properly to ensure as curd should not get any lumps, than add cucumber, onions, carrot and green chilly finely chopped.
3. Now add salt, red chilly powder, dry pudina powder, and cumin powder.
Serve the mouth-watering vegetable biryani with vegetable raita (curd).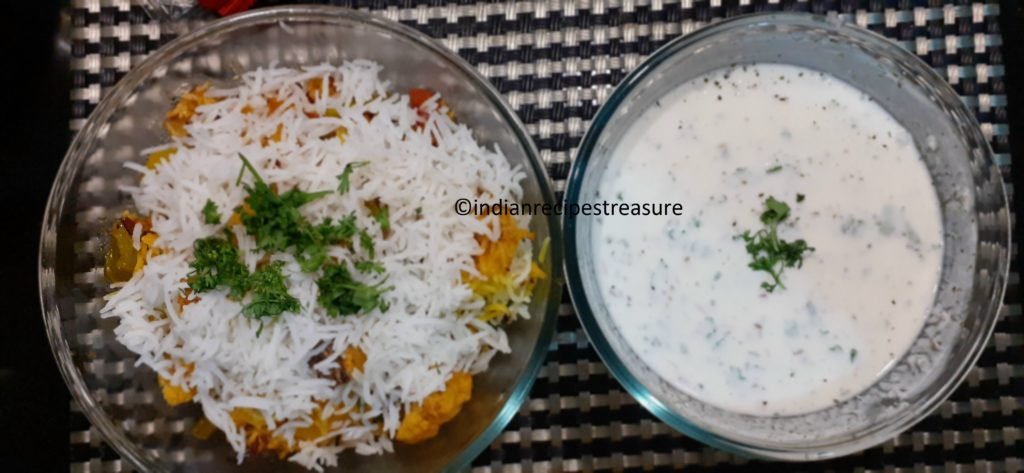 Healthy Tip for Vegetable Biryani:
Veg. Biryani is a rich and luxurious preparation of rice and vegetables. It is a traditional Indian food that contains lots of ghee and oil, along with aromatic spices and vegetables. It has ample amounts of vitamin A, iron and calcium. Calories in Indian foods like Veg Biryani is high because of amount of ghee used and deep frying of many ingredients that go into its preparation. For healthy option, reduce the oil content and try to use brown rice if taste permits. Veg Biryani is a nutritious and healthy Indian food for vegetarians. Vegetables provides more fibre, vitamins, and minerals. It is full of flavors, is tasty and filling.
For more such delicious recipes, please visit https://indianrecipestreasure.com