Mango Rabdi recipe is a simple dish with minimal ingredients yet high on flavour & taste. A rich, creamy, fruity, traditional Indian dessert with a soft pudding like texture. A heavenly combination of creamy rabdi and fruity mango.
Summers can't be imagined without mangoes. Simply put, mangoes are hard to resist. For people, mangoes are not just a luxury that they can access through money but it is an experience in itself. Everyone talks about mangoes with passion equivalent to that of a musician talking about his instrument. There are a myriad of mangoes that one can choose from. Mango is often called the 'King of Fruits'.
An easy, summer time dessert that puts the season's best fruit to good use. The traditional way of making rabdi does take time as milk has to cook on slow fire till it reduces to one-third of its original quantity and becomes a thick mixture. The mango puree once blended into the reduced milk gives an impressive texture. Rabdi is versatile as you can add a variety of fruity flavours as add-ins. Mango rabdi has the right amount of sweetness, creamy with fragrant mango tones providing a comforting goodness that only the king of fruits can. It makes for a top class mango dessert garnished with flaked almonds, chopped pistachios and chopped mangoes. A perfect party dessert too!
Please follow easy steps given below to prepare Mango Rabdi at home!!!
Serves: 5 pax. Cooking Time: 90 minutes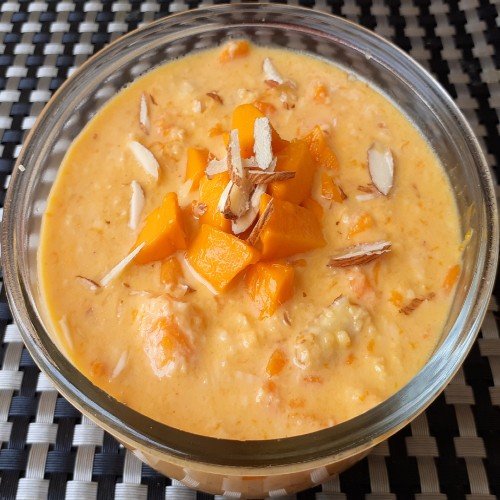 Ingredients
Full cream milk – 1 litre
Sugar – 2 tbsps. (adjust as per taste)
Mango (Alphonso) – 2 (1 cup pure, fresh and thick and 1 cup chopped mango pieces)
Cardamom powder – ½ tsp
Ricotta Cheese (Mawa/Khoya/Khova) – ½ cup
Pistachios – 6-7, finely chopped
Almonds 4-5, chopped or flakes
Mango Rabdi Recipe
Boil milk in a large heavy bottomed wide vessel. Once it comes to a boil, reduce to low heat and allow to simmer. Keep stirring at regular intervals, pushing the layer of cream ("malai") that forms on the top towards the sides of the vessel. Continue to do this till the milk is reduced to less than half of the original quantity.
Now add Ricotta Cheese (mawa/khoya/khova) to milk, stir continuously so that milk does not burn.
Keep scraping the cream (malai) from the sides of the vessel and mix it with the thicken milk.
After almost 45 mins or so, the milk would have reduced considerably to a thick mass. Add sugar and half of the chopped nuts and mix them well.
Allow the sugar to dissolve and continue to simmer the mixture till it reaches a third of the original quantity.
Add cardamom powder, Turn off heat and allow to come to room temperature.
Add the mango puree and chopped mango pieces mix it well till. Remove to a bowl and refrigerate it for a couple of hours. You can also serve at room temperature.
Garnish with the remaining chopped pistachios, almond flakes and diced mango pieces.
Pour the MANGO RABDI into serving bowls and serve it chilled.
Helpful Tip
Ensure that you stir the milk at regular intervals so that the milk does not burn.
Use heavy bottomed vessel so that the do not burn.
Any left-over rabdi can be stored in the fridge for 3 to 4 days or frozen for a few weeks.
For more recipes visit us at https://indianrecipestreasure.com/