Punjabi Rajma Recipe is a popular vegetarian dish, originating from Northern India, consisting of red kidney beans in a thick gravy with many Indian whole spices and, is usually served with rice. Although kidney beans did not originate from the Indian subcontinent, it is a part of regular diet in Northern India and Nepal. It is native to the New World-Central Mexico and Guatemala, to be precise. The Spaniards and the Portuguese brought the bean back to Europe.
The dry seeds were a valuable source of protein for sailors, and ships soon carried the kidney bean to Africa and Asia. It had a special place in the diet of Native Americans. The amino acid profile of the pod complemented the amino profile of corn, the staple of most tribes. Some predominantly vegetarian tribes of Central America avoided malnutrition by incorporating the red seed into their daily corn recipes.
Rajma chawal served with chutney of Anardana is the famous dish of Peerah, a town in Ramban district of Jammu, and Assar in Doda district of Jammu. Going further, the Rajma of Chinta Valley in Doda district, a short distance from the town of Bhaderwah of Jammu province are said to be amongst the most popular. These are smaller in size than most Rajma grown in plains and have a slightly sweetish taste.
It is a super easy Rajma Chawal recipe, I am sure you will love to prepare and enjoy this delicacy.
Serving – 4 pax Cooking Time –25-30 min
Ingredients
Kidney beans – 1 ½ cup ( 1 night soaked )
Onion – 1 medium
Ginger garlic paste – 1 tablespoon
Tomato – 4 medium paste
Coriander powder- 2 teaspoon
Red Chilli powder- 1 teaspoon
Turmeric powder- ½ teaspoon
Salt according to taste
Garam Masala powder – ½ teaspoon
Bay leaf- 2
Cinnamon Stick – 1 inch
Coriander leaves- 1 tablespoon
Oil – 4 tablespoon
Steps to prepare Rajma
1. Kidney beans soak in water overnight.
2. Add 4 cups of water and salt. Take 4 to 5 whistles in pressure cooker. Switch of the flame.
3. Separate boiled kidney beans from water, keep the water as it will be used later.
4. Take a pan add oil heat it, then add onions paste sauté till light brown.
5. Add ginger garlic paste sauté till 4 min.
6. Add coriander powder, red chilli powder, turmeric powder and mix well.
7. Add tomato paste and mix well. Sauté till 5 to 6 min.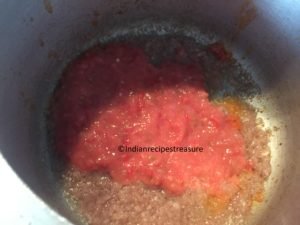 8. Mash boiled kidney beans for a thicker gravy.
9. Now add kidney beans and boiled water in the pan. If needed, add more water.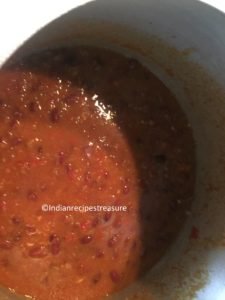 10. Add garam masala powder and mixed well, cook for 7 to 8 min.
11. Punjabi Rajma Recipe is ready, garnish with coriander leaves and serve with hot Chawal (boiled/jeera rice).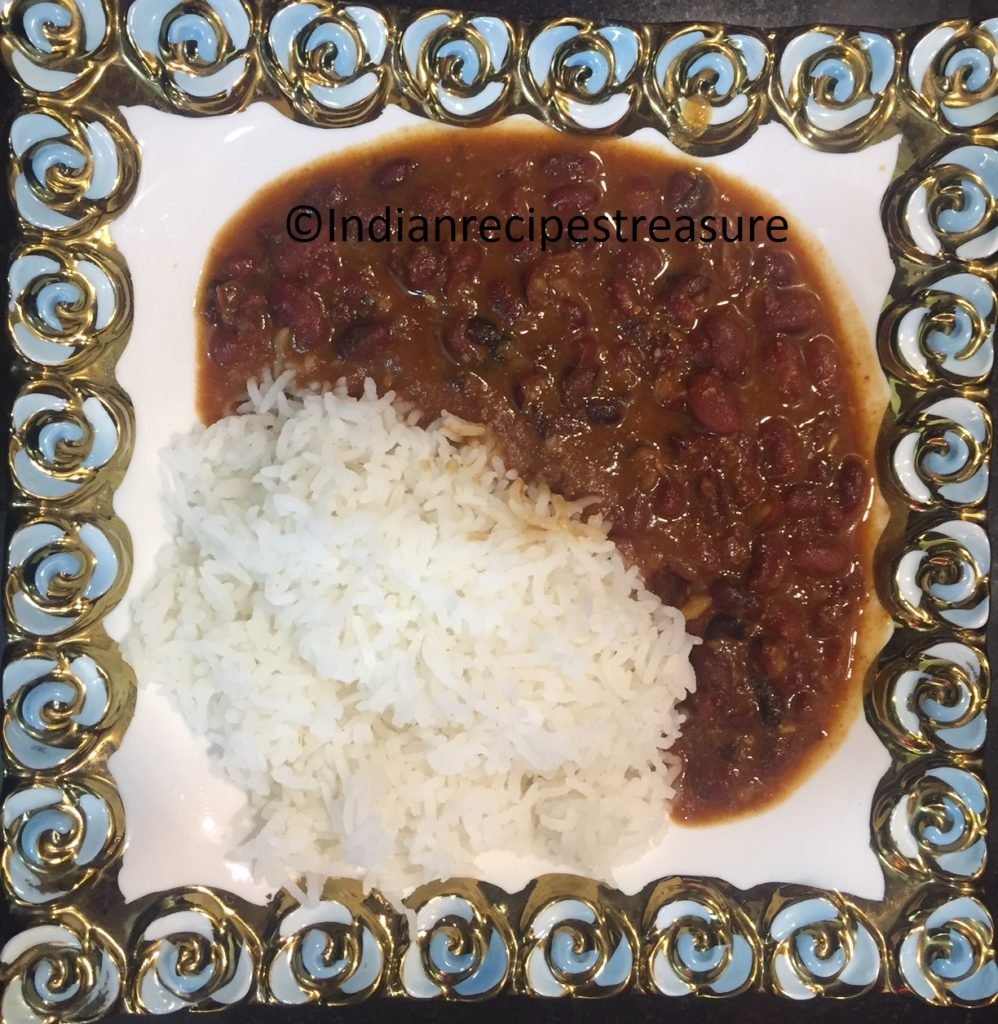 Healthy Tip
Kidney beans are a very good source of cholesterol-lowering fiber, as are most other beans. In addition to lowering cholesterol, kidney beans' high fiber content prevents blood sugar levels from rising too rapidly after a meal, making these beans an especially good choice for individuals with diabetes, insulin resistance or hypoglycemia. When combined with whole grains such as rice, kidney beans provide virtually fat-free high quality protein.
Please provide your reviews and comments. Also, make suggestions for recipes you like.