Tinda, also called Indian squash, round melon, Indian round gourd or apple gourd or Indian baby pumpkin, is a squash-like cucurbit grown for its immature fruit, a vegetable especially popular in South Asia. Stuffed Tinda is a semi-dry vegetable popular in north western India.
Tinda is considered a boring vegetable by many in North India – part of the reason is it is used in a lot of curries during high season and tastes bland unless used with a lot of spices. Further, its seeds are not favoured by many.
Bharwan Tinda is a dry subzi in which round gourds (tinda) are stuffed with a masala of tomatoes, garlic, onion and spices, and then sautéed till the vegetable is tender and the flavours are absorbed. The juiciness of the gourd together with the intense flavour of the stuffing make this dish a delight to bite into.
Serving – 4 pax Cooking time – 30 min
Ingredients
Tinda – 500 grams
Onion – 1 large size finely chopped
Tomato – 3 medium size finely chopped
Green chilli – 2 in medium size finely chopped
Turmeric powder – ½ teaspoon
Red chilli powder – ½ teaspoon
Coriander powder – 1 teaspoon
Garam masala powder – ½ teaspoon
Dry mango powder – ½ teaspoon
Cumin seeds – ½ teaspoon
Hing – 1 pinch
Salt according to taste
Oil – 2 tablespoon
Coriander leaves – 2 tablespoon
Steps of preparation of Stuffed Tinda
1. Firstly rinse tinda very well in water.
2. Peel or scrape the outer green skin of the tinda.
3. Now make cross sign slice on each tinda without cutting entirely. Slice all tinda like this. After this keep all in side.
4. Now take a bowl add finely chopped onion, tomato, green chill, turmeric powder, red chilli powder, coriander powder, salt, amchure powder and garam masala. Mixed them all.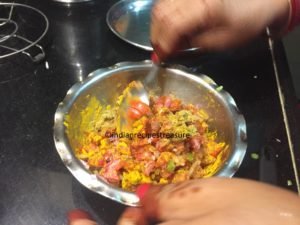 5. After mixing fill all the tinda with it.
6. Some portion of mixture should be left. After doing this.
7. Take a pan or pressure cooker (in pan it will take 20 min to cook on low flame and in pressure cooker it will take only 1 whistle). Add oil after heating add cumin seeds and hing. Once a sound of cumin to crackle starts, then add stuffed tinda and remaining stuffing.
8. Cover it and stir with soft hand in some interval. Add little water as and when required. Once, almost done add 1 teaspoon curd. Stir with soft hand till it get dry.
9. Hot and spice stuffed tinda is ready. Garnish with coriander leaves.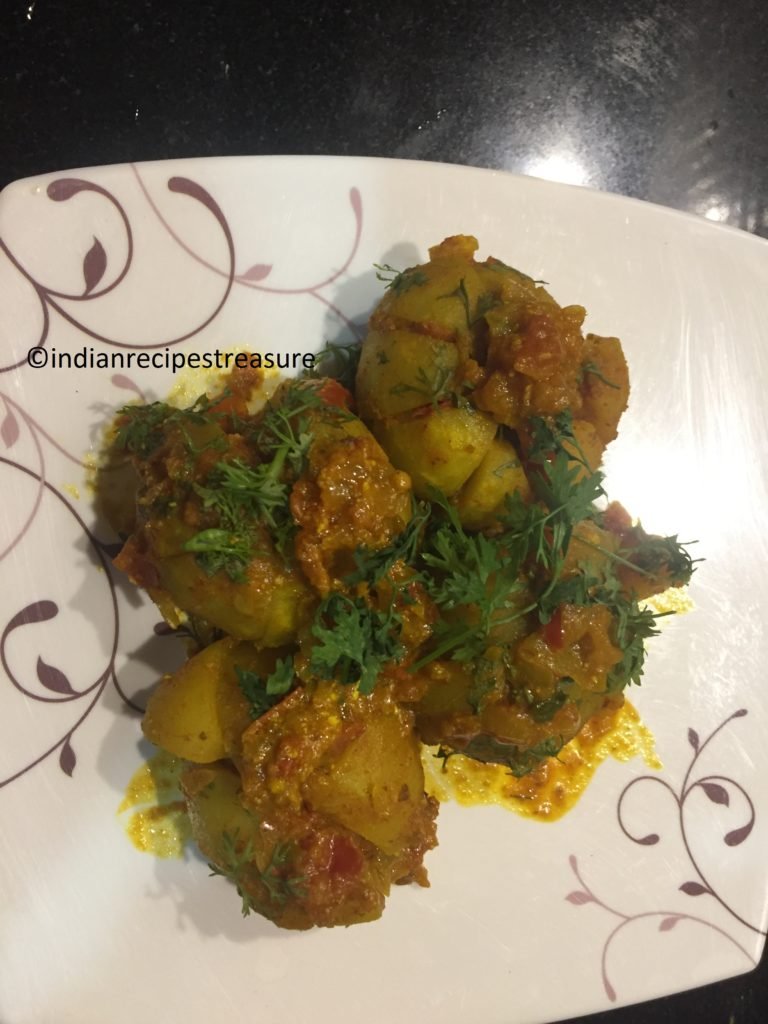 Healthy Tip
Tinda also known as round gourd is high in water content and fibre . Good to cure constipation, low in fat and good for heart. … Yes, this recipe is good for diabetics, heart and weight loss.
For more Indian Recipes, please visit us at https://indianrecipestreasure.com/