Boondi Laddu Recipe
Boondi Laddu is a very common sweet available across India. Although, it's common but is a favourite for most of the people. Boondi Laddu is also used as a synonym for sweets and for any occasion it is mandatory to have it as part of the menu.
The word boondi is derived from the Hindi language word "boond" means a drop. Boondi is made using cheakpea flour (besan), it is passed through perforated spoon, which forms round balls and its deep fried in the oil/ghee and it is known as savoury Boondi.
Ladoo is the most famous sweet in India. Boondi Ladoo is also the most popular dessert that we distribute for thanksgiving.
I used to get this sweet on every Republic Day and Independence Day. In every marriage and birthday celebration, and in almost every auspicious day. This is also the most popular sweet offered to the Hindu Gods. You will never find lord Ganesha idol without Laddo in his hand. We also worship Ganesha before starting any auspicious activity. Thus, Ladoo also becomes an integral recipe in any auspicious ceremonies.
To make perfect Boondi Laddu, please follow me here as I am going to share easy step-by-step instructions and video to make easy how to make Boondi Laddu at home.
Boondi Ladoo delights almost every special occasion. With just 3 ingredients – sugar, gram flour, and ghee, this delicious sweet is ready to serve. You can also store it for a week easily.
Prep Time-15 mins Cook Time-20 mins
Total Time-35 mins Servings: 12 Ladoos
Ingredients of Boondi Laddu
For Sugar Syrup
Sugar-1.5 cup
Water-¾ cup
Saffron- 1 pinch
Green cardamom powder- ¼ teaspoon
For Boondi
Gram flour-1.5 cup
Water- 1.25 cup
Oil or ghee for frying Boondi
For garnishing
Cashew nut-1 tablespoon chopped
Melon seeds -1 tablespoon
Instructions to prepare Boondi Ke Ladoo
Take the gram flour in a bowl to prepare batter of boondi, add water slowly slowly this will help you to make a smooth batter of gram flour for a perfect Boondi.
The consistency of the gram flour solution is very important for preparing Boondi. Therefore, the solution should not be too diluted nor too thick. So, to prepare the right consistency batter, add little little water in the gram flour, and whisk it well.
Even after getting the right consistency of gram flour batter after mixing water in gram flour keep whisking the batter at least for 5 to 6 minutes but always whisk it in one direction only. This beating and mixing of gram flour batter at the end are very important as it helps is joining little air in it. This addition of air helps in getting porous Boondi.
After you have whisked and mixed the batter well, keep it aside for 10-12 minutes to help gram flour grains absorb water well, this step further improves the quality of Boondi Ladoo.
To check the consistency of the gram flour batter, you can also fry some Boondi. While frying, round porous ball of gram flour should be formed in the oil and it should not be spread. A perfect Boondi should be round.
If lumps are forming while of frying or you are getting tail in Boondi or it falls in oil like a noodle, then your gram flour solution is thick, add some water and dilute it. And if the gram flour batter is spreading in the oil, then your solution has become very thin, so it is necessary to thicken it by adding a little gram flour.
The water added to gram flour depends on the quality of gram flour, so with a little practice and experience, you will easily able to prepare perfect Boondi. Once you get the right consistency, proceed with the next step of frying the Boondi.
How to fry Boondi for Boondi Laddu
To fry Boondi, fill a heavy wide pan almost half with ghee then place it over medium flame. Let the ghee or oil turn hot.
Place a large strainer over a pot and keep it aside. We will place our fried Boondi over this strainer, to drain out extra ghee from our fried Boondi later.
For frying Boondi we need perforated spoon ladle called Boondi Jhara. This Boondi Jhara comes with 3 types of holes, for preparing Boondi Ladoo we require small or medium-size hole Boondi Jhara. If you do not have it at your home then you can strainer jhara.
As I have it thus let us start to fry our Boondi. For this place the Boondi Jhara on top of hot ghee maintaining a little distance from the ghee.
Now pour 2 tablespoons of gram flour batter over Boondi Jhara and start to shaking the Boondi Jhara little up and down over ghee with one hand. While spreading the gram flour batter with gentle pressure over Boondi Jhara with a spoon by another hand.
You will find small circular drops of gram flour batter falling in the oil then will find them coming up whisking. Keep repeating the above step until the surface of the oil gets filled with Boondi. As soon as the surface of oil gets filled with Boondi stop adding more Boondi in ghee and start to stir them.
After a minute of stirring take them out of ghee, we need not turn them crisp and the color of Boondi should not change. Take out the Boondi with the help of a strainer and transfer it over the strainer placed over the pot.
Now before start frying our next lot of Boondi clean the Boondi Jhara from the top as well as the bottom, by wiping out the extra gram flour batter remaining over it. Ensure the Boondi Jhara holes are open again as the gram flour batter becomes dry and closes the holes since we have placed this over the hot ghee.
Once you have wiped, cleaned and opened the holes of Boondi Jhara, repeat the above steps and continue frying Boondi.
After frying all the Boondi, let them rest.
Preparing sugar syrup for Boondi Laddu
Prior to frying our Boondi lets us start preparing sugar syrup for this, mix sugar and water in a pan and place it on gas over medium flame.
Stir and mix the sugar with water till the sugar dissolves completely.
Now to it add a pinch of saffron and one-fourth teaspoon of green cardamom powder and mix it well in the syrup. This will provide a nice color and flavor to your Boondi Ladoo.
Let the syrup boil and cook the sugar syrup until you get the consistency of one thread syrup.
Once the syrup turns sticky, check its consistency by picking a little syrup on the tip of a spoon. Let the syrup in spoon cool down a little, then touch the syrup in the spoon with your finger and start removing your finger gently, if the syrup extends like a fine thread your syrup is ready. Turn off the gas, cover the syrup. Let it sit till we fry our Boondi.
Tip for correct Sugar Syrup
The Laddo that we prepare from 1 string sugar syrup is soft. As at home, I prepare it to consume it within 1-2 days. So usually I prepare 1 string sugar syrup.
How to make Boondi Ladoo
To prepare Boondi Ladoo we will transfer our Boondi in the sugar syrup. But ensure the sugar syrup is warm enough. If your syrup has become cold then place it over gas on low flame and make it slightly warm. It should not be very hot.
Now transfer the Boondi in warm sugar syrup then press the Boondi gently in the syrup with be back of a ladle. Also, mix them with the sugar syrup and keep pressing gently.
Once all the syrup and Boondi are mixed well keep them to rest for 30 minutes so that Boondi absorbs the sugar syrup well.
After 30 minutes give the Boondi and sugar syrup again a good mix then grease your palm with little melted ghee. Take a handful of sweetened Boondi and bind the Ladoo by folding your finger gently and applying little pressure.
Place the Boondi Laddu over a plate and repeat the above step to bind the rest of Boondi Ladoo.
Delicious Boondi Laddu is ready to eat and serve to your guests.
For garnishing
You can garnish you Boondi Ladoo with chopped cashew and Melon seeds or you can also mix chopped cashew after frying them in the Boondi and sugar syrup mixture prior to binding your Ladoo.
You and choose to garnish them as you desire. But Boondi Ladoo even without garnishing does taste delish.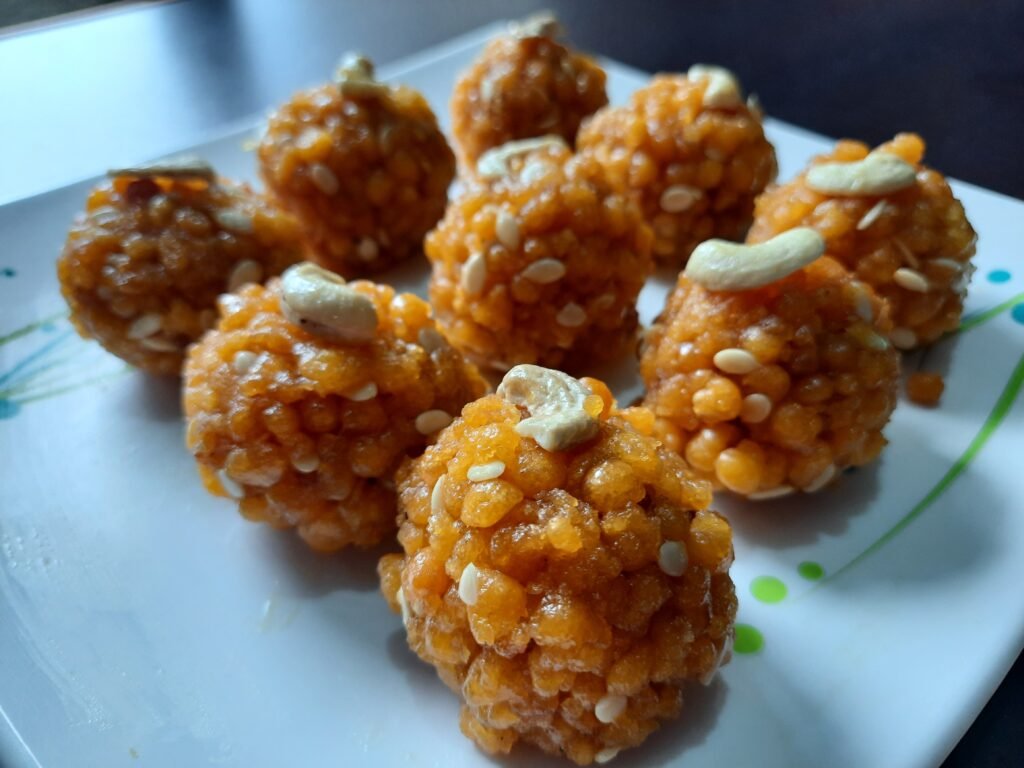 Note: watch video for perfect consistency of better
For more recipes visit us at https://indianrecipestreasure.com/