Rasmalai is a dessert originating from the eastern regions of the Indian subcontinent, possibly Bengal. The name rasmalai is the Hindi cognate of Bengali: rosh, meaning "juice", and molai, meaning "cream". It has been described as "a rich cheesecake without a crust". The sweet is of Bengali origin; according to K.C. Das Grandsons, it was invented by K.C. Das.
Here is a step-by-step process for home-made Rasmalai. (Watch the video at bottom of this page)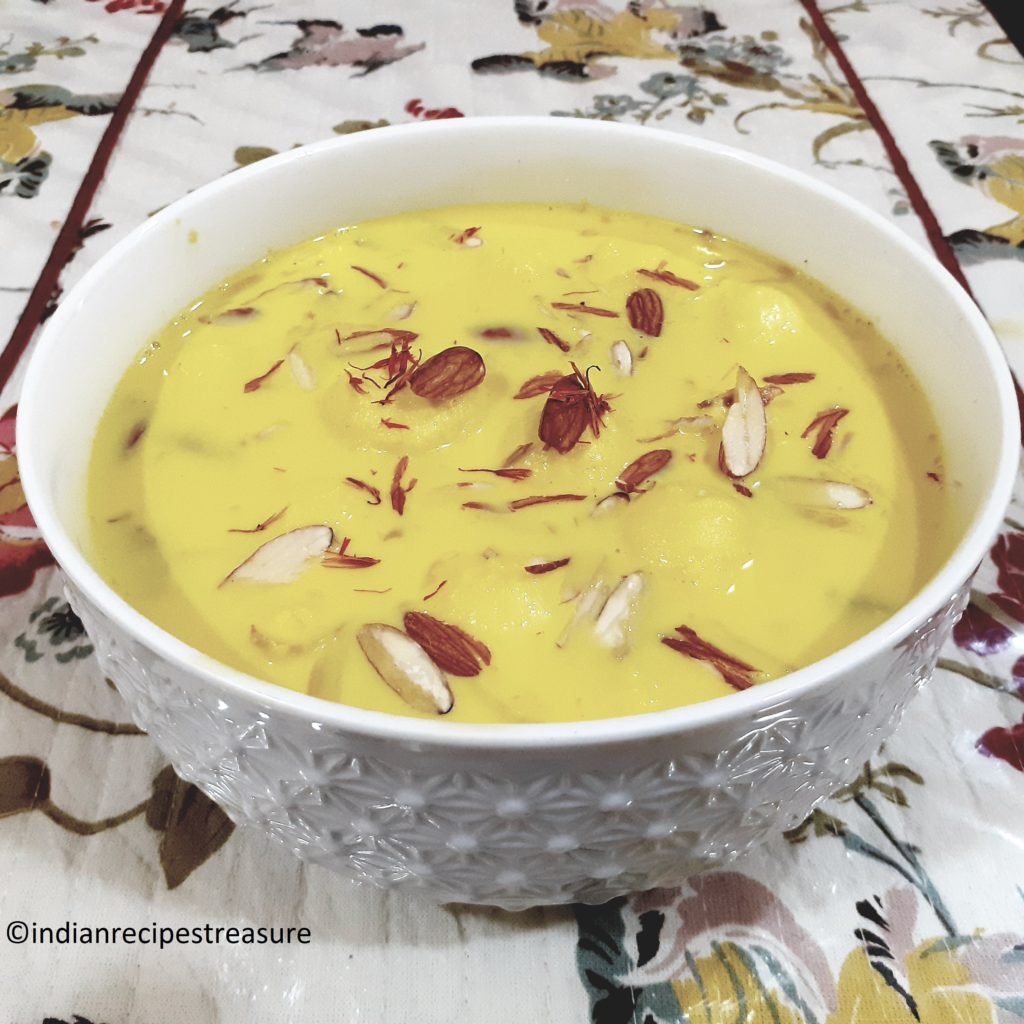 Serving – 5 Pax. Time: 1 hour
Ingredients for Rasmalai Balls
Full Cream Milk – 1 litre
Lemon Juice – 4 tablespoon
Corn flour – 1 tablespoon
Water – 4 cups
Sugar – 1 cup
Soft cotton cloth
Ingredients for Ras (Rasmalai Syrup)
Full Cream Milk – 1 litre
Cardamom – 5-6 pieces (powder form)
Saffron – 1 pinch
Sugar – 3-4 tablespoon
Pistachio – 10-12 pieces (chopped)
Almonds -10-12 pieces (chopped)
Food color yellow – 1 pinch
Preparation of Rasmalai Balls
Boil milk in heavy bottom pan.
Add lemon juice till milk curdles completely. Then switch off the flame.
Take a cotton cloth cover the strainer with it drain water out of milk and collect the curdles ("Chenna").
Rinse it under tap water to extract the lemon juice from curdles.
Leave it in the strainer for 10-15 minutes and then take the curdles ("Chenna") in your hands and squeeze out remaining water slowly.
Add corn flour and start to mash "Chenna" till it gets smooth.
Mash constantly for 10-15 minutes using your palm. Once it's smooth, make small balls out of it. Please note to make the balls with soft hand to make them spongee.
Heat 4 cup of water and 1 cup of sugar in a wide pan and wait till it comes to a full boil.
Drops the balls in boiling sugar syrup and cook for 15-17 minutes. The balls will become little big in size. Please note that cook as per below:

5 mins at high flame with covered lid
5 mins at low flame with covered lid
7 mins at high flame without lid

Take out the balls from the syrup and drop them in fresh water. (if they sink to the bottom , the balls are done.)
Now refrigerate the sponge balls.
Preparation of Ras (Rasmalai Syrup)
In a heavy bottom pan, boil 500 ml milk.
Add a prick of saffron in a 3 tablespoon of warm milk and set aside.
Once a milk comes to a boil (in about 10 minutes), lower the flame and continue to stir the milk at regular intervals. Add food color and sugar, mix it properly.
After 30 – 35 minutes the milk will become thicker to a desired consistency, add soaked saffron & crushed cardamom .
Also add finely chopped pistachu & almonds. Mix them well and switch off the flame.
Take refrigerated Rasmalai balls from the water and squeeze them.
Add balls to warm Rasmalai Syrup ("Ras")
Keep the Rasmalai in refrigerator for 5-6 hours.
Garnished with chopped pista and few saffron strands before serving!
For more recipes visit us on webite https://indianrecipestreasure.com/