Chicken Achari is a famous North Indian dish made with a similar pickling spice mix. It's rich in flavor, not too hot and gives a tangy spice kick which can lift up your mood instantly.
In India, pickles or achar are commonly enjoyed in everyday meal. It's made with different variety of vegetables, fruits and at times, with fish. The vegetables or fruits are partially cooked in the spice mix. Then, they are dipped in oil and left for resting in an airtight jar for few weeks. This allows the spice mix to combine nicely and enhance the flavor even before you can enjoy the first bite. There are no artificial chemicals added in the pickling jar. It's the salt and oil in the pickle that works as a perfect preservative for months.
Let's spice up our mood and learn to prepare another recipe from the treasure of India "Chicken Achari".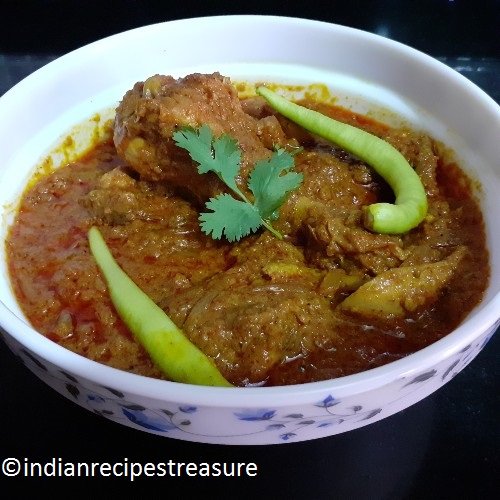 Serving- 4-5 pax. Cooking Time: 40-45 mins
Ingredients
Mustard oil – 2 tbsp
Chicken- 1 kg
Tomatoes – 2 small
Onions – 5 (2 sliced & 3 paste)
Ginger-garlic paste – 2 tbsp
Green chillies paste – 6-7
Fennel (sauf) -1 tsp
Fenugreek (methi dana) – 1 tsp
Coriander seeds (dhaniya) – 1 tsp
Kalonji- 1 tsp
Kashmiri Red Chilli Powder – 1.5 tsp
Turmeric powder- 1/2 tsp
Coriander powder- 1.5 tsp
Salt according to your taste
For Marination of Chicken Achari
Curd – 250 gm
Chat Masala – 1 tsp
Turmeric – 1/2 tsp
Kashmiri Red Chilli Powder- 1/2 tsp
Salt according to taste
Ginger Garlic Paste- 1 tsp
For marination, take a bowl add all listed ingredients mix them well and add chicken pieces.
Prepration Steps of Achari Chicken
1.Take oil in a heavy saucepan and heat it, then add half sliced onions to it and fry till light golden in color.
2. Now add paste of 3 onions. Let it cook till oil gets discharged on the side of the pan.
3. Now add ginger garlic paste. Cook for 2 to 3 mins.
4. Now Add tomatoes and green chili paste, again cook till oil gets discharged on side of a pan.
5. Now add all masala (spices) to gravy turmeric powder (haldi), red chilli powder, garam masala and salt. Cook for 2 -3 mins and add 1/2 cup of water.
6. Then add marinated chicken pieces.
7. Now prepare a pickle "Achari" flavor – Roast fennel (saunf), fenugreek (methi dana), kalonji and coriander (dhaniya) seeds together till fennel appears light brown in color. Grind them in a mixer to make a powder.
8. When chicken is half done, add 2.5 tsp powder of pickle "Achari" flavor.
9. Now cook for about 25 minutes for chicken to be cooked completely.
Your "Chicken Achari" or "Achari Chicken Curry" or "Achari Murgh" is ready to serve hot with chapatti, naan or zeera rice.
NOTE: Mustard oil gives a unique pickled flavor,though its an acquired taste. Use any oil of your preference if its not available. I used homemade Achari Masala, but you can use the store bought one. The Achari spice mix has salt, so be cautious while adding salt.
For more recipes check out this https://indianrecipestreasure.com/