Palak Paneer is a vegetarian dish originating from the Indian subcontinent, consisting of paneer in a thick paste made from puréed spinach (Palak) and seasoned with onion, ginger, garlic, garam masala, and other spices.
Palak Paneer may be called green paneer in some restaurants in the United States and Canada. That dish may contain mustard greens or other green leafy vegetables or green vegetables. Dhaba restaurants often specialize in Palak Paneer. It can also be found as a pre-packaged food in many large stores. It can be served as soup as well and is popular during winter.
Serving – 4 pax Cooking time – 30 min
Ingredients
For Palak purée
Palak – 1 blanch
Green chilli- 1
For the Palak curry
Butter/oil/ghee- 2 tablespoon
Cumin seeds- ½ teaspoon
Hing- 1 pinch
Red chilli powder- ½ teaspoon
Turmeric powder- ½ teaspoon
Coriander powder- ½ teaspoon
Salt according to taste
Garam masala powder- ½ teaspoon
Onion- 1 medium size finely chopped
Tomato- 1 medium size finely chopped
Garlic- 7-8 finely chopped
Ginger- 1 inch
Paneer cubes- 250 gm
Fresh cream 1 tablespoon
Steps to prepare Palak purée
1. Clean and rinse the spinach (Palak) with water properly.
2. Boil water and add blanch of all palak leaves.
3. Once the palak changes its colour immediately add palak leaves to chilled (ice cold) water, so that it remains green in color and don't turn into black color.
4. Now add green chilli to make puree.
5. Keep the spinach purée a side.
Steps to prepare curry for Palak Paneer
1. Heat oil/ghee/butter in a pan.
2. Add cumin seeds and hing until crackling sound is heard, now add finely chopped onion and garlic. Sauté them till they become brown in color.
3. Then add chopped tomato, till tomato get soft sauté them.
4. Now add red chilli powder, turmeric powder, coriander powder and salt. Sauté for 10 min, add little water.
5. Now add already prepared Palak purée and stir them well.
6. Cook for 10-15 min then add Paneer cubes and fresh cream (for creamy texture).
7. Now add gram masala powder and stir well.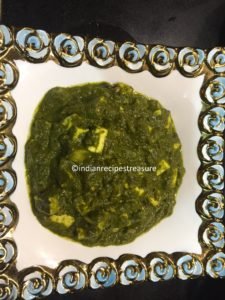 8. Your mouth smacking Palak paneer is ready to be serve hot and with chapatti/naan/lacha paratha.
Healthy Tip:
The Palak Paneer is a healthy dish with low in calorie and fat! Paneer is fresh Indian cheese which is rich in protein and spinach (palak) is rich in iron content.
For more recipes, please visit www.indianrecipestreasure.com