Schewzan Fried Rice is another Indo-Chinese recipe which is made by blending rice with a famous schezwan sauce. It is a quite popular & most ordered recipe at the restaurants.
The unique aroma in the Schezwan Fried Rice comes from the Sichuan peppers which in an integral part of Schezwan sauce. The Schezwan Fried rice recipe is easy to make in which rice is fried along with the schezwan sauce to give unique blend when cooked together.
The Schezwan sauce is easily available in the stores or else you can make it by yourself from scratch at home.
The Schezwan Fried Rice goes well with Chili Chicken, Manchurian, Chili Paneer, Paneer Manchurian etc. Unlike the regular fried rice, schezwan fried rice is tangy, hot & spicy with busting flavour of ginger, garlic, schezwan sauce & veggies.
Now, you can follow the step-by-step instructions given below to prepare this easy to make Schezwan fried rice recipe at home.
Servind- 4 pax Cook Time: 25 min
Ingredients
Rice – 2 cups
Water – 4 cups
French Beans – 2 tbsp chopped
Carrot – 2 tbsp chopped
Spring Onions / Sallions Green – 2 tbsp chopped
Garlic Ginger Paste – 1 tbsp chopped( or use finely chopped also instead of paste)
Schezwan Sauce – 4 tbsp or as required
Chilli powder – 1/2 tsp
Vinegar – 1 tsp
Oil – 2 tbsp
Salt to taste
Steps To Make Schewzan Fried Rice
Soak 2 cup rice for 10 minutes. Soaking makes rice longer in length and cook rice separates in container. Take a pan and add 4 cups of water, salt to taste and Boil the rice till they are 90% cooked. Drain the rice in a stainer and put some water on it to prevent it from further cooking. Keep rice aside for about 15 minutes till they are dry.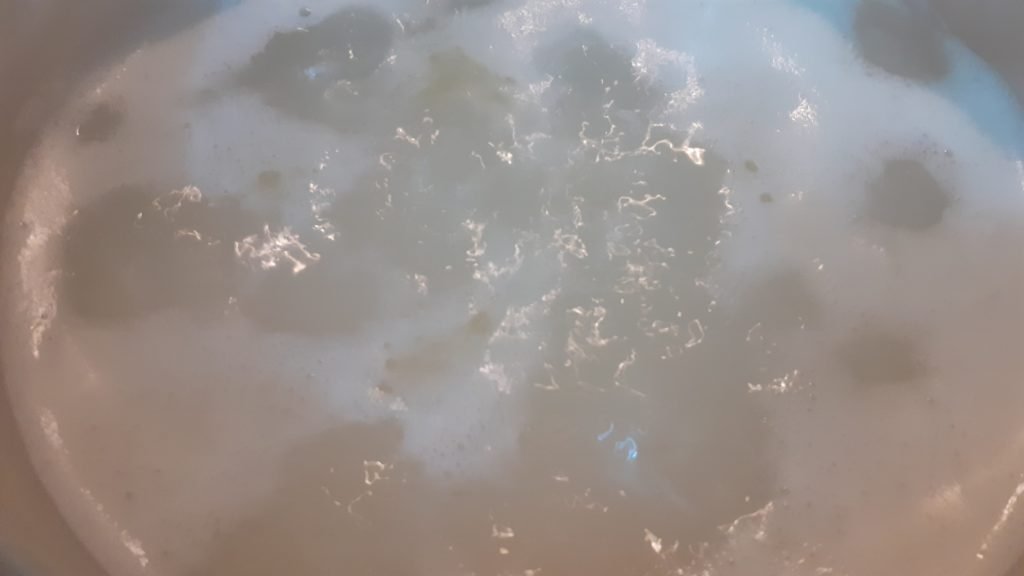 Heat 2 tbsp oil in a non-stick pan, then add ginger garlic paste 1 ½ tbsp or (2 tbsp chopped garlic and 2 tbsp chopped ginger) Cook it for few seconds.
Now add finely chopped french beans and carrot. Saute them till 2 min.
Add 3-4 tbsp of Schezwan Sauce and vinager, add 2 tbsp water (tbsp-tablespoon). Cook all the ingredients for 2 more minutes.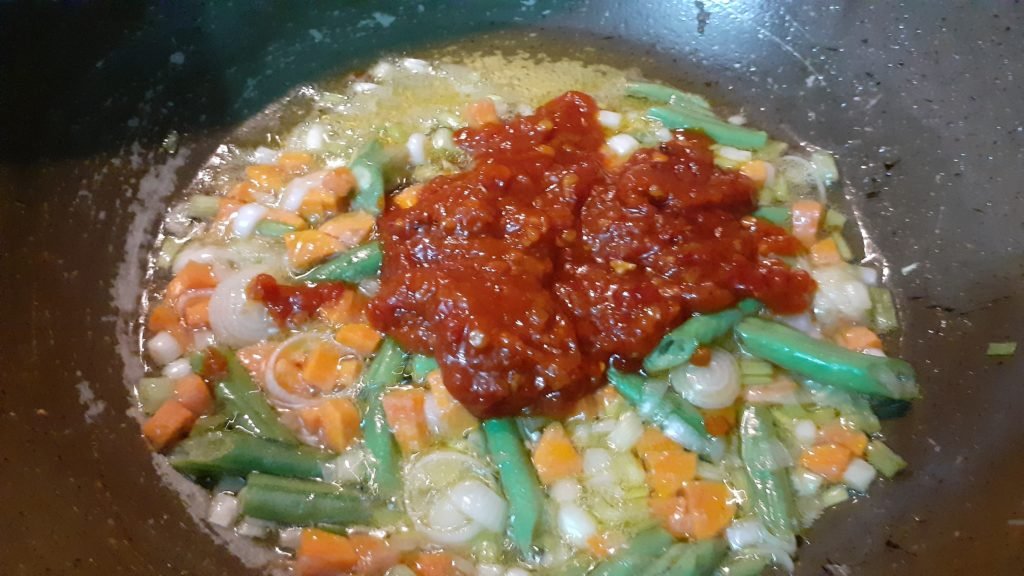 Then add salt, red chili powder and cook all the ingredients for 3-4 minutes.
Add rice and some finely chopped green spring onions.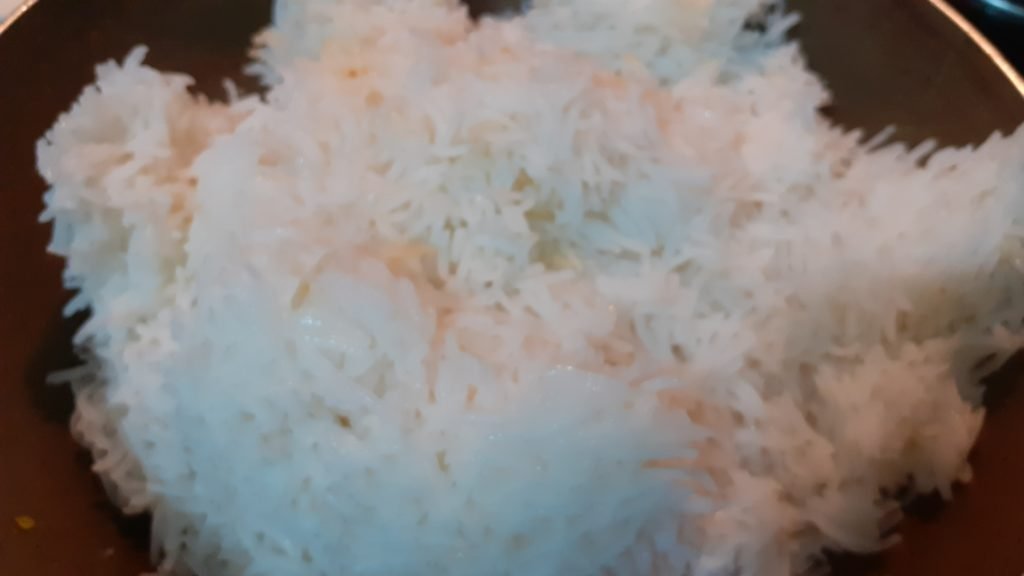 Keep tossing all ingredients on high flame for 2-4 minutes. You may add some oil, if rice look dry. You Indo Chinese Schezwan Rice are now ready.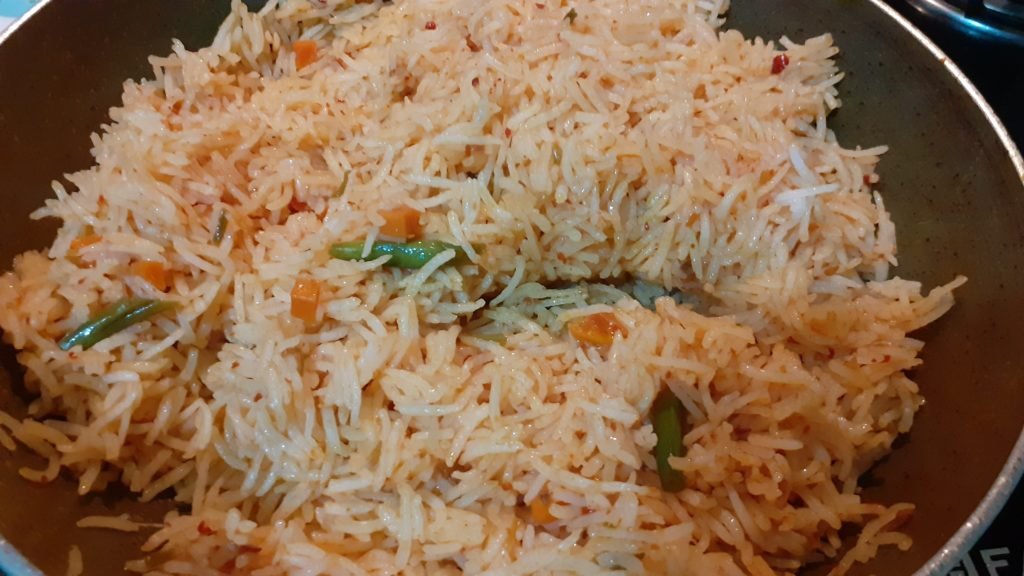 Chef Tips:
If you cannot make Schezwan Sauce at your home then bottled one is easily available in the market.
You can keep homemade Schezwan sauce in refrigerator for couple of months, just need to keep it in air tight container or bottle.
While making the Schezwan Sauce consistency should be checked time to time and add water as per requirement. You can adjust water in Schezwan Sauce later while making other recipes.
You can add lots of other vegetables in Schezwan Fried Rice like capsicum, peas, cabbage and paneer.
These rice are best to serve with Chilli Chicken , veg Manchurian
For more such recipes, please visit us at: https://indianrecipestreasure.com