Sabudana Tikki, also called 'sabu vada', is a traditional deep fried snack from Maharashtra, India. It is often served with spicy green chutney and along with hot chai and is best eaten fresh. In other parts of the country, Sabudana vada are the best option to have when fasting. Therefore, this filling and nutritious snack is served usually during religious festivals and during fast/vrat/upvaas especially in Navratri vrats. Like all vadas, these are best eaten fresh. Sabudana vadas are crunchy and melt in the mouth.
Ingredients for Sabudana Tikki
Serving: 4 pax Preparation Time: 30 minutes
Sabudana (tapioca pearls)- 2 cup
Boiled Potatoes- 2 medium
Roasted Peanut -4 tablespoon(crushed)
Ginger-½ inch
Coriander leaves – ¼ cup,
Lemon juice-1 teaspoon
Rock salt (sendha namak) as required
Oil or ghee as required for frying or shallow fry
Preparation to make sabudana Tikki
Pick and rinse the sabudana well till you get transparent water when rinsing.
Soak them atleast for 8-10 hours (if possible overnight) in sufficient water in a bowl.
The next day, drain the water and make sure that there is no moisture left in them.
Making sabudana Tikki
1.Add the mashed potatoes and all the ingredients to the soaked sabudana. Mix well.
2.Heat a non-stick frying pan.
3.Spread 1 or 2 teaspoon of oil or ghee on the pan.
4.Apply some oil on your palms.
5.Take some portion from the mixture and flatten it with your palm
6.Place the flattened round on the frying pan.
7.Fry till both sides are golden brown and crisp.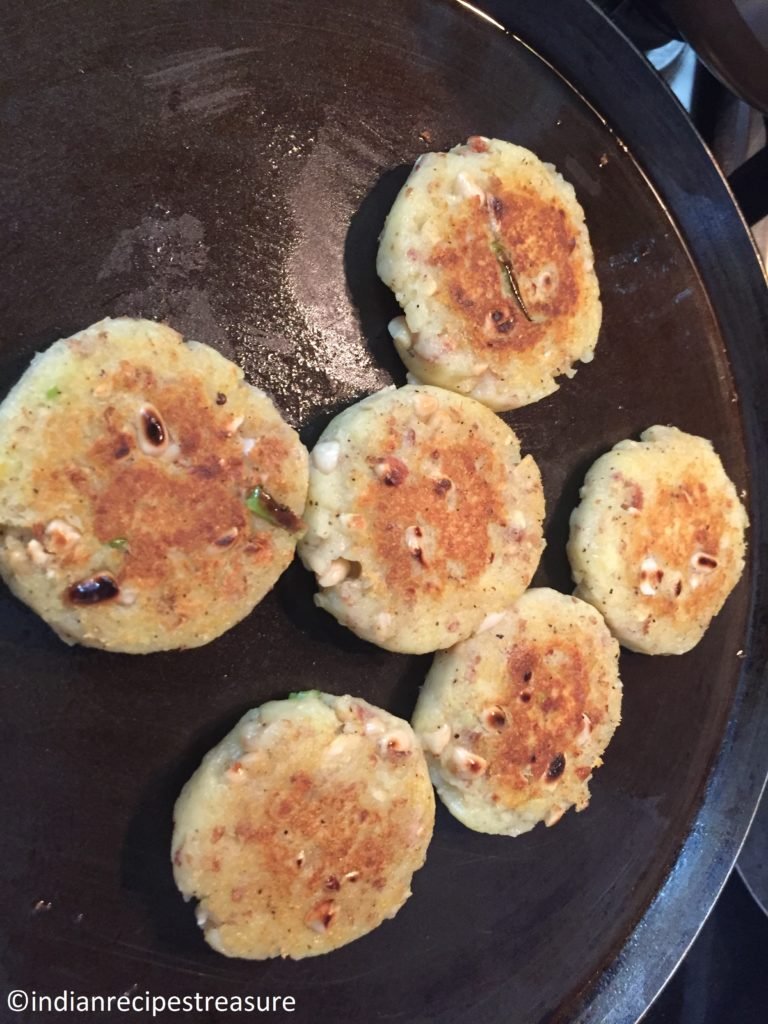 8.If you have a large pan, you can cook 2-3 at the same time.
Serve Sabudana Tikki serve with a phalahari Tomato chutney or curd.
Tomato chutney
1.Take four tomatoes clean them.
2. Cut them and make a puree , then take some oil in pan .
3. Add tomato puree let it cook, add sendha namak and black peeper.
4. Let it get thicker now.(don't add water in it).
5. After get thicker it now ready to eat.
For more recipes check out https://indianrecipestreasure.com/