Kadhai Paneer is an irresistible and aromatic dish prepared in most of the Dhaba's in India. This dish is a very popular north Indian dish, simple to make yet very scrumptious to eat. Kadai paneer, a mouthwatering combination of paneer, capsicum, tomato, onion and traditional Indian spices cooked in a ghee, is one of the most popular curries.
Kadhai is an 'Indian wok' and it is to the Chinese wok. And Paneer means Indian cottage cheese. So basically, a paneer dish made in kadai called kadhai paneer.
The gravy is made of onions and tomatoes, tomatoes made gravy bright red in color. We will use green bell peppers, onion chunks and aromatic spices to cook Kadhai Paneer. All of the ingredients are mixed together and stir fried on a high flame to get that incredible smoking flavor.
Kadai Paneer is a very quick stir fried dish cooked on high flame, it can be prepared quickly as a combination of all the ingredients stir fried in a kadhai would do wonders in making an appetizing and luscious dish.
Kadhai paneer goes very well with naan, roomali roti, phulka's or any Indian bread of your choice.
The Paneer is easily available on a dairy store or in a supermarket; however you can also make Paneer at home. Please click here if you want to follow step-by-step instructions to make paneer at home.
The kadai masala is one of the vital parts of this dish which enhances the taste and makes it zesty to the taste buds.
Are you ready to follow this easy to make Kadhai Paneer recipe? I am now going to show to step-by-step process of making a Kadai Paneer at home.
Serving – 6 pax.                                    Cooking Time – 20 min
Ingredients used in Kadhai Paneer
Butter / Oil – 2 tablespoons
Garam masala – 1 teaspoon
Chili powder – 1 tablespoon
Haldi powder- ¼ teaspoon
Cumin seeds – 1 teaspoon
Coriander Powder – 1 tablespoon
Black Pepper corns – 9 numbers
Cardamom- 2 piece
Paneer – 400 grams
Onion – 1 Medium size slice
Onions (medium size cubes) – 1 numbers
Capsicum (cut into cubes) – 1 numbers
Tomato- 3 medium size
Green chili – 2 peices
Cashews- 10 piece
Salt – according to taste
Kasthuri methi- 1 teaspoon
Milk – 2 tablespoons
Ingredients to get Paneer marinate
Paneer – 400 gram cut in dices
Salt- according to taste
Red chili powder- ½ teaspoon
Lemon- ½ teaspoon
Instructions
Heat ½ tbsp. oil and add diced onion and capsicum fry them slightly and keep them side.
Then add marinated paneer cubes fry them slightly too and keep them side.
Heat 1/2 tbsp ghee/oil in deep pan, add black pepper and cardamom.
Then add 1medium sliced onion, fry it for 2-3 minutes till onion slices gets translucent. Add cashews and fry till it turns to golden brown.
Now add cubed tomato and green chili, cook till it softens and becomes mushy.
Let the onion – tomato paste cool a bit. Add 2-3 tbsp milk to this and grind to a smooth paste.
In the same pan (without cleaning), add 2 tsp ghee. Add cumin seeds, haldi powder, red chili powder, coriander powder and salt. Cook for 2-3 min.
Then add the paste, and mix it well. Cook for 10 min and wait for oil to get dicharged.
Now add paneer pieces, onion pieces and capsicum mix well.
Cover it with lid and cook on low flame for 3-5 mins. Wait for masala to coat well on the paneer chunks.
Add Kasuri methi and Garam masala powder mix well.
Our kadhai paneer is ready to serve with chapatti, naan and jeera rice.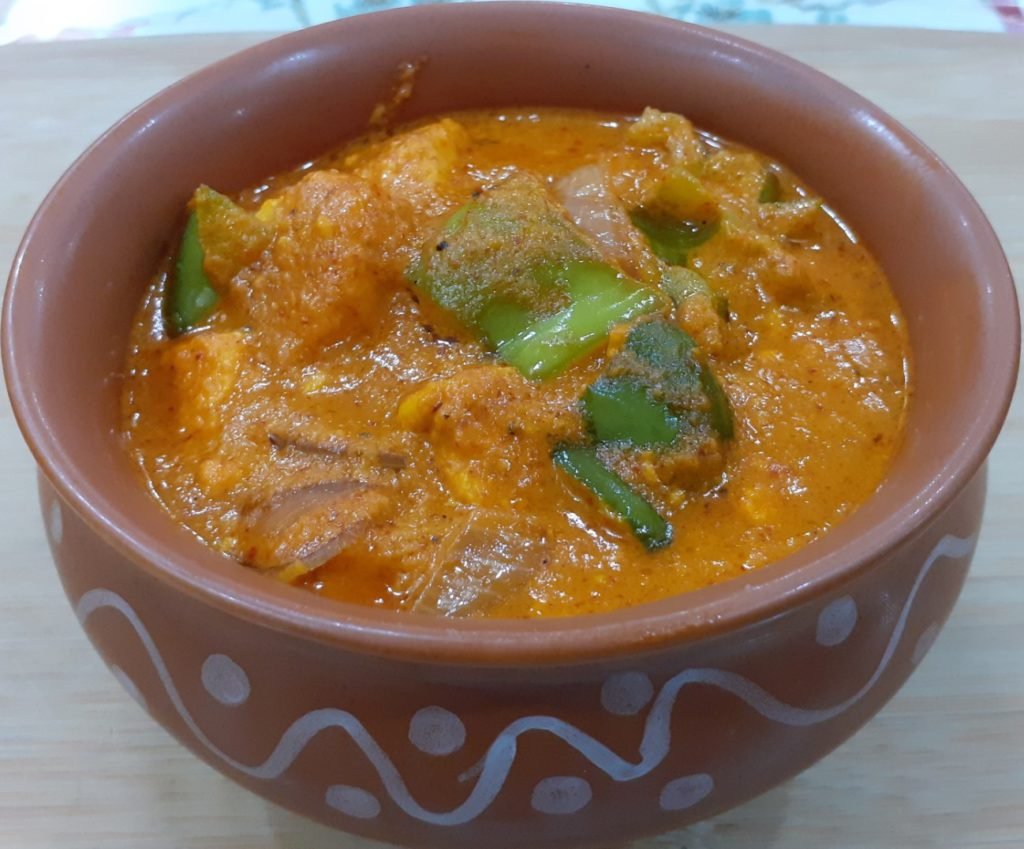 Tips
You can use oil to cook this dish, I recommend using ghee for a rich taste and flavor.
If you prefer a creamier version, add 1/2 – 1 tbsp of chopped cashew nuts along with the tomatoes.
If you dont like Paneer, you can use Potatoes or Mushrooms or Chicken.
For more recipes visit us on https://indianrecipestreasure.com/
HomeMade Paneer Recipe : https://indianrecipestreasure.com/homemade-paneer/